About PMKVY (Pradhan Mantri Kaushal Vikas Yojna)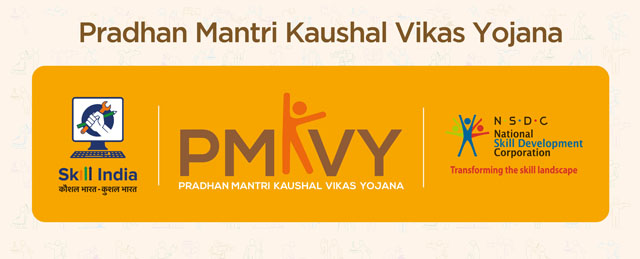 5 Important Announcements of PMKVY
1. Duration
Unlike the previous phase of the scheme that was for FY 2015-16, the new phase is for 4 years (2016-20).The increased duration will help uninterrupted and continuous implementation of the scheme. This move will positively affect the outcome and the overall impact on skill development and employment ecosystem.
2. Social Target
The new phase will have a target of skill development of 1 Crore youth over a period of 4 years. This target is more than 4 times the target of the inaugural phase of PMKVY. This makes PMKVY as one of the largest skill development programs globally.Out of the total target of 1 crore,75 lakhs will be fresh skilling and 25 lakhs will be for Recognition of Prior Learning(RPL) of existing workforce.
3. Budget
The Government has allocated a budget of Rs.12000 Crore towards the next phase of the scheme. It highlights the importance and priority Government is giving for resource mobilization for the success of Skill India Mission. This will further augment the Country's position in becoming the Skill Capital of the World.
4. Coverage
To ensure wide and equitable coverage, the scheme has special provisions for residential training for People with Disability (PWD),North Eastern Region(NER),Kashmir & Keh region,Andaman ,Nicobar,Lakshadweep and Left Wing Extremism (LWE) affected areas. Pradhan Mantri Kaushal Kendra(Model Skills Centres) will be established in each district of the country to ensure inclusiveness and to make skill development more aspirational . The addition of residential training component to PMKVY will encourage enrollment, participation, and completion of training and will give the much-needed support to special areas and groups.
5. Implementation
The implementation of the scheme has been entrusted to National Skill Development Corporation(NSDC). State Governments and State Skill Development Missions (SSDM) will also be involved for implementation of one fourth of both the financial and social targets.
---
PMKVY is Approved for another three years (2017-2020) to benefit 10 million youth, Allocated Budget 12,000 Crores
Pradhan Mantri Kaushal Vikas Yojana (PMKVY) is the flagship scheme of the Ministry of Skill Development. The objective of this Skill Certification Scheme is to enable a large number of Indian youth to take up industry-relevant skill training that will help them in securing a better livelihood. Individuals with prior learning experience or skills will also be assessed and certified under Recognition of Prior Learning (RPL).
The Union Cabinet on 13th July 2016, Approved the Pradhan Mantri Kaushal Vikas Yojana(PMKVY) with an outlay of Rs.12000 crore to impart skill training to one crore people over the next four years(2016-2020). PMKVY will impart fresh training to 60 lakh youths and certify skills of 40 lakh persons acquired non-formally under the Recognition of Prior Learning(RPL). The target allocation between fresh trainings and RPL will be flexible and interchangeable depending on functional and operational requirements, an official statement said.
The Scheme, completely aligned to the common norms as notified earlier, would move to grant based model where the training and assessment cost would be directly reimbursed to training providers and assessing bodies in accordance to the Common Norms.
Financial Support to Trainees will be given in the form of travel allowance, boarding and lodging costs, Post Placement Support would be given directly to the beneficiaries through Direct Benefit transfer(DBT).
Disbursement of training Cost to Training Partners will be linked to Aadhar and Biometrics for Better Transparency and targeting. Skill Training would be done based on industry led standards aligned to the National Skill Qualification Framework(NSQF).